Estate Vineyards Merlot, Rust en Vrede, 2017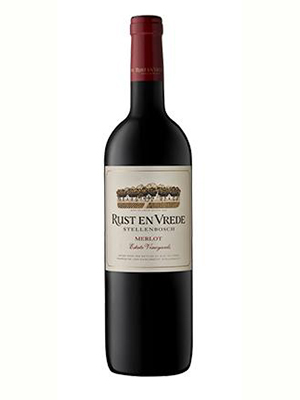 Estate Vineyards Merlot, Rust en Vrede, 2017
Ripe plums, mulberry, liquorice, thyme and cured meats on the nose follow through on the palate
Vintage - 2017
Country - South Africa
Region - Stellenbosch
Grape Varieties - Merlot 100%
Alcohol by volume - 15%
Bottle - 75cl

Since 1977 Rust en Vrede has specialised in the exclusive production of red wine from estate vines, with the focus on Shiraz, Cabernet Sauvignon and Merlot.
Ripe plums, mulberry, liquorice, thyme and cured meats on the nose follow through on the palate – showing this complex wine as juicy and savoury simultaneously. Judicious use of oak alongside skin tannins add spice and structure whilst firmly supporting the fruit.
Picking began on 20th February 2017. The winter of 2016 was extremely dry, with a maximum rainfall of 579 mm, much lower than the average 712mm. The cool months after winter triggered a good bud break followed immediately by dry weather. The dry soil inhibited cell division in the early part of berry development, which resulted in smaller berries (20% smaller than usual), which balanced the effects of the dry conditions and allowed for a normal and healthy production. The 2017 Merlot vintage was 20% down on the previous year.
Malolactic fermentation took place in barrel after which the wine was left to mature for 14 months in 100% French oak with a medium toast.